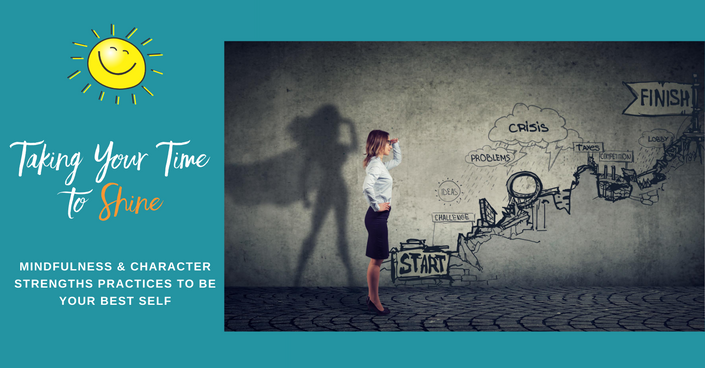 Taking Your Time to Shine (Self Study)
A mindfulness-based approach to positive relationships with yourself and others.
Enroll in Course
An 8 week mindfulness-based program to help empaths (and others who feel the weight of the world on their shoulders) move from overwhelmed and exhausted to empowered, energized, confident, and more in control of how they feel.
This program has been designed with healers and empaths in mind. Empaths have a natural ability to sense and feel what others are experiencing. This is a great gift when you know how to do so in a way that's helpful to others and energetically safe and boundaried for yourself. But many empaths have not been taught how to do this. So instead of using their natural abilities in a way that is invigorating and feels meaningful to them, they feel overwhelmed and drained.
Join Kanjana and Brandon, healers, empaths, mindfulness practitioners, and people who've been on this journey themselves to:
Harness mindfulness, self-compassion, and positive psychology techniques that take you from surviving to thriving.
Create healthy energetic and relational boundaries to improve relationships and feel energetically protected.
Discover your natural character strengths and learn how to turn them up or down as needed.
Understand your personal values and how to live in alignment with them for a more fulfilled and contented life.
Realize your full potential by recognizing and befriending your Self and your empathic gifts- allowing the best, most authentic version of Y-O-U to shine through.
Need more information? Check out our page: https://bit.ly/timetoshine2023

Continuing Education:
Social workers in NJ and social workers, MFTs, and LPCs in PA can earn 30 CEs for completion of this course, reflections of weekly work, and a final evaluation of the course as a whole.
FOR PENNSYLVANIA SOCIAL WORKERS, MARRIAGE AND FAMILY THERAPISTS, AND PROFESSIONAL COUNSELORS: This program is approved for 30 credits for professional workshops sponsored by the Pennsylvania Society for Clinical Social Work, a state affiliate of the Clinical Social Work Association listed in Section 47.36 of Title 49, Chapter 47 of the PA Code, State Board of Social Work Examiners. This program is also approved for 30 credits for professional workshops for marriage & family therapists (Section 48.36) and professional counselors (Section 49.36).
FOR NEW JERSEY SOCIAL WORKERS: This program is approved for up to 30 credits. Attendance at programs or courses given at state and national social work association conferences, where the criteria for membership is an academic degree in social work, are a valid source of continuing education credit (N.J.A.C. 13:44G-6.4(c)4).
Your Instructor
Course Curriculum
Week 1: Taking Your Time
Available in days
days after you enroll
Week 2: How Bright Are You?
Available in days
days after you enroll
Week 3: Spotlighting Obstacles as Opportunities
Available in days
days after you enroll
Frequently Asked Questions
When does the course start?
The course begins whenever you want!
How long do I have access to the course?
The course is about 8 weeks in total, and you have access any time on any device. And because we recognize life can sometimes get busy, you will have access to the lectures for 16 weeks (about 4 months). All meditations and worksheets are yours forever, so please download them to your preferred device if you would like to keep them.
What do I get with this program?
This program includes: 8 weeks of pre-recorded character strengths and mindfulness talks on Teachable Private Facebook group for staying in touch, accountability, and access to Kanjana & Brandon throughout the week Questions and Weekly reflection responses from Kanjana and Brandon at
[email protected]
Who is this course for?
This course is for anyone who feels overwhelmed, exhausted, or energetically drained. It's also great for those looking to build self-esteem and confidence, learn concrete tools to manage overwhelm and fatigue, feel more present in their daily lives, practice a variety of short, accessible meditations to find an appropriate meditation style for themselves, and to see themselves from a strengths-based perspective.
What will I get out of this course?
People who've taken this course in the past report the following: -improved self-image -improved and deeper relationships with others -decreased anxiety, stress, and depression -increased confidence in self and ability to handle whatever life throws their way -feeling less in their heads and more in their lives -living a life based on their values versus having decision paralysis or regret -feeling less reactive and more responsive -concrete practices for applying a variety of strengths at home, in personal lives, and at work
What is needed for getting CEs (continuing education for therapists)?
Social workers in NJ and social workers, licensed professional counselors, and marriage and family therapists in PA can earn 30 CEs for completion of this course in full. This mean watching/listening to/completing all 30 hours of content in the 16 week or 4 month timeframe and submitting 8 reflections to
[email protected]
. This is a requirement of our board in order to offer CEs.
Are refunds available?
Given the nature of this course, refunds are not available at this time. Should you have extenuating circumstances where you need additional time to complete the course, please contact us to see if we can make some accommodations. Please know this is more difficult for participants seeking CEs as there are time requirements from the board in order to offer those.